The MR 2212 W measures the interior resistance of objects with a natural voltage, including batteries, fuel cells, accumulators, separators and power racks.
With its large range from some 10 µΩ to 2 Ω it is widely used in R+D, monitoring and trouble-shooting applications. The feed line resistances are compensated by the 4-pole measuring method according to Kelvin. In addition the temperature of the test object (PT 100) can be monitored continuously as well as its direct voltage. The MR 2212 W can be connected to the test object even while it is in operation. This makes continuous monitoring possible, and all measured values can be recorded at any time by a connected computer.
Limit values allow the release of alarm signals on site via a control system or a computer.
The sophisticated recognition of contact errors at the holding device itself is one of the most important features, as it enables you to distinguish between such errors and actual defects of the test object.
The corresponding error messages, as well as the actual defects of the test object are not only transferred to the control system, but also displayed clearly on the MR 2212 W front panel. An automated measuring system is provided which is activated in case the value measured is below / above the measuring range.
It is only necessary to program the instrument once via the RS232C interface, in order to operate the instrument with these parameters at manual measuring setups or with an industrial PLC system.The instrument can be controlled completely via RS232C using a computer terminal, by single contact opmode (footswitch) or using the frontpanel keys.
Resistance measurement
Ranges
2.000 mΩ – 2000 Ω, decadic
Min. values below 3% error
>= 0.1 mΩ (e.g. 107 µΩ) up to 2000 mΩ
Current
100 mA at 2 mΩ and 20 mΩ,
10 mA at 200 mΩ , 1 mA at 2 Ω
Frequency selectable 1 kHz or 10 kHz
Range select
automatically, keypads, via RS232
or via IEEE-488 (optional)
Speed
approx. 2 s
Voltage measurement
Range
2 V, 20 V, 200 V
Circulation pump
230 V AC or 115 V AC
Max. measurement error
± 0.2 % of MV ± 2 digits
Input resistance
1 MΩ
Speed
approx. 400 ms
Temperature measurement
Range
- 20 °C to + 100 °C, linearized for PT 100
Max. measurement error
0.2 °K (no probe error)
Sensor type
several PT 100 temperature probes
Speed
ca. 600 ms
Error detection
prior to EVERY single measurement
Current connection errors
LCD: 'CURRENT', RS232: 'ECUR'
Sense connection errors
LCD: 'SENSE', RS232: 'ESEN'
Overrange >80%
LCD: 'OVERLD.', RS232: 'EOVL'
Limit values
using keypad, via RS232
limit over- / underflow shown
on LCD, via RS232, via PLC
Start of measurement
using keypad
via RS232 and IEEE-488 (optional)
via PLC (potential free contact)
via foot switch (optional enhancement)
Ports
RS232C (full external control)
SPS (<,=,>,OVL,CUR,SEN,EOC,GO,REM)
printer (parallel, ANSI standard)
single contact op. (potential free)
IEEE–488 (optional)
Size
260 x 80 x 240 mm (WxHxD)
Fuel-Cells – Lithium Batteries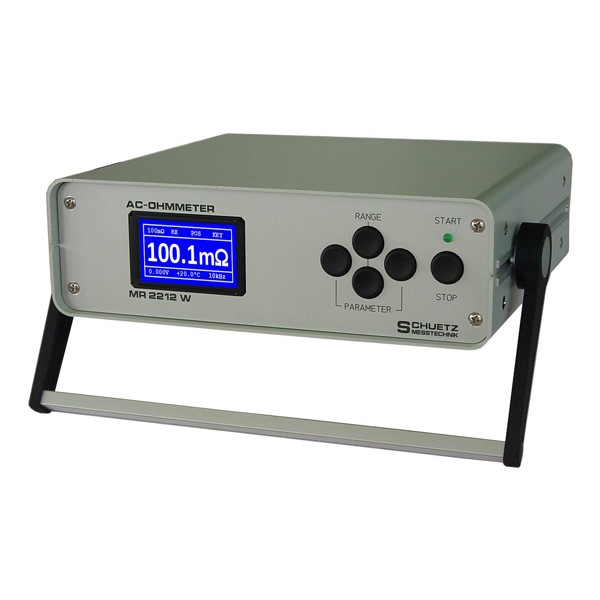 Range from 2 , 20 , 200 mΩ , 2 Ω, decadic
max. resolution of 1 µΩ
measurement error ± 0.5 % of MV ± 3 Digit
Including voltage measurement
Including temperature measurement
Limit parameters as well as visual contact errors at the holding device enhancements (ok, too low, too high), including switchable acoustic signal
RS232C port to get full external control over the instrument
Centronics printer port
PT 100 1/10 DIN – temperature probe:
4-pol. MiniDIN connector
cable length 1,5 m
F = ±(0,03°C+0,0005•|t|)
IEEE – 488 enhancement:
control the instrument via IEEE – 488
MP multiplexer enhancement:
internal multiplexer, up to 48 channels
(higher channel count by request)
POSition for identifying the cell number
Foot switch:
to start measurement externally
Software MR2212 XFER
sends measurement values to any spreadsheet program or text-editor.
For Windows© 10, 2000, XP.
DAkkS – calibration certificate from the
'Deutscher Kalibrierdienst'