MR 200 CSP – E
for thin conductive layers
The MR 200 CSP – E Micro-ohmmeter is a special design for the highprecision measurement of electrically conductive con-nections (bondings), conductive
layers, cables, plugs and similar test objects, used in particular in the aerospace industry.
It is the high-resistance variant of the Bounding Tester MRC100S-BD-3, in whose highest measuring range of 1.000 Ω measurements are still possible at 10 A (!), while the MR200CSP-E allows the measurement of 100,00 Ω at only 0.1 mA.
This makes it also fit for measuring thin, conductive layers, which might be destroyed if higher currents were used.
As a particular feature, the MR200CSP-E, like the BOUNDING TESTER, enables you to select different current levels in the individual ranges, which is not only necessary for performing different measuring tasks but also required by several international test regulations. Its thermoelectric force compensation, the quotient measurement, and the
testing of all contacts, voltages and currents during the measurement, make long-term stable and highly accurate measurements possible:
| | | | | |
| --- | --- | --- | --- | --- |
| RANGE | CURRENT 1 | CURRENT 2 | CURRENT 3 | CURRENT 4 |
| 10 mΩ | 100 mA | 50 mA | - | - |
| 100 mΩ | 100 mA | 50 mA | 10 mA | - |
| 1 Ω | 100 mA | 50 mA | 10 mA | 1 A |
| 10 Ω | 10 mA | 5 mA | 1 mA | - |
| 100 Ω | 1 mA | 0,5 mA | 0,1 mA | - |
Range
10 mΩ - 100 Ω, decadic
Overrange
+80%, to 1800
Max. measurment error
½0,05% from MV ½ 2 digits
Current
0,1 A to 1 A, selectable
Range selection
using keypad
Display
LED, 4 ½ digits
Speed
approx. 2 measurements per second
Error detection
prior to EVERY single measurement
Current connection errors
display: 'CUR',
Sense connection errors
display: 'SEN',
Overrange >80%
display: 'OVL'
Start of measurement
using keypad
via RS232 or IEEE - 488
via foot switch (optional)
Ports
RS232C (optional)
printer (optional)
start contact (potential free)
Dimensions
260 x 150 x 350 mm (WxHxD)
Weight
approx. 8 kg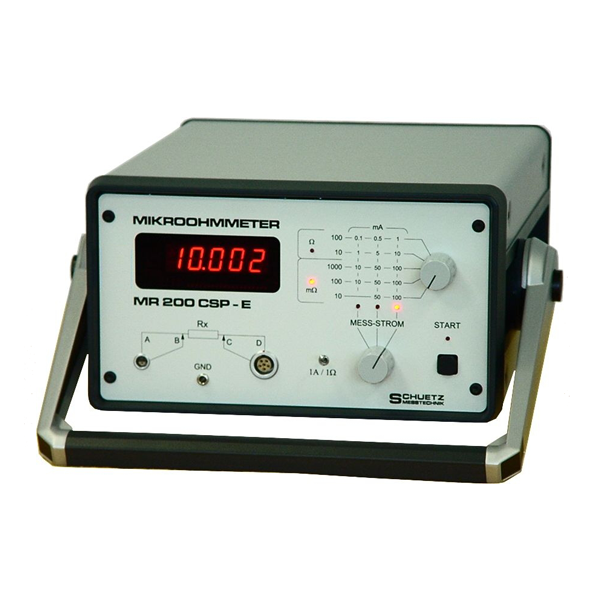 Centronics printer interface:
parallel printers can be connected directly to the instrument using this enhancement
RS232C Zusatz:
enhances the MR200 CSP-E with a standrad RS232 port
IEEE – 488 Zusatz:
control the instrument via IEEE – 488
Cable several lengths, with Kelvin test prod and start button
Cable several lengths, with Kelvin clamps
DKD – calibration certificate from the Deutscher Kalibrierdienst