PWR1-3B Ratiometer 3-PHASE
for Power- and Distribution- Transformers
The RATIOMETER PWR1-3B is constructed to measure the transformation ratio, phase error and magnetizing current of power- and distribution- transformers for all three-phases simultaneously. Voltage and current transformers are single phase, power transformers normally three-phase. Due to the bad quality on industrial lines (phase jitter and shifting, voltage differences between the three phases) all measurements normally are done single phase, even on three phase ratiometers.
The design of the PWR1-3B contains an internal sinus power oscillator which delivers the necessary exciting voltage with very low distortion and stable voltage not found in industrial lines. This allows very stable and precise single- and three-phase measurements.
The Ratiometer PWR1-3B uses a large LCD display with backlight to present the values of ratio and phase difference of "H.V. Winding" to "L.V. Winding" , and the excitation voltage and the magnetizing current of the high voltage winding.
The instrument performs self calibration and different warning messages before each measurement in case of reversed connections and other failures. The instrument is battery-powered but can be driven by normal line voltage, too. A built-in printer is optional. Two test voltages can be preselected. A tap changer connection allows the forward changing of the tap changer automatically.
The ratio range is selected automatically, too.
Ratio range
Accuracy
Resolution

Phase angle
Test voltage...
... and current
Test frequency
Input protection
Error and …
…warning messages

Display
Interface
Printer
Power supply

Dimensions
Weight
Environment

1: 0.8 to 1: 2,500 (..to 1:4,000 Option AC)
0.2% of reading +/- 3d (0.08% of rdg. +/- 2d Opt.AC)
0.9 to 9.999:1 >> 0.001 / 10.1 to 99.99:1 >> 0.01
100:1 to 999.9:1 >> 0.1 / 1,000:1 to 4,000:1 >> 1
+/- 180.0° +/- 0.2°
10/100 VAC ( Other voltages on request )
120 mA max. @ 100 V
50 Hz / 60 Hz (other frequencies as option )
Surge absorbers and fuses
Continuity error (HV and LV) / Shorted windings
Tap misconnections / Current error
External voltage / HV-LV Reversal / Battery low
Large LCD with back light, 7 lines of information
USB
20 Character printout, 7 lines of information (Option)
Mains 48…62 Hz, 90…260 VAC 25 VA ;
Rechargeable battery for 6h operating
ABS rugged case, W410 x D330 x H180mm.
approx. 8.5 kg net
0…60°C not condensing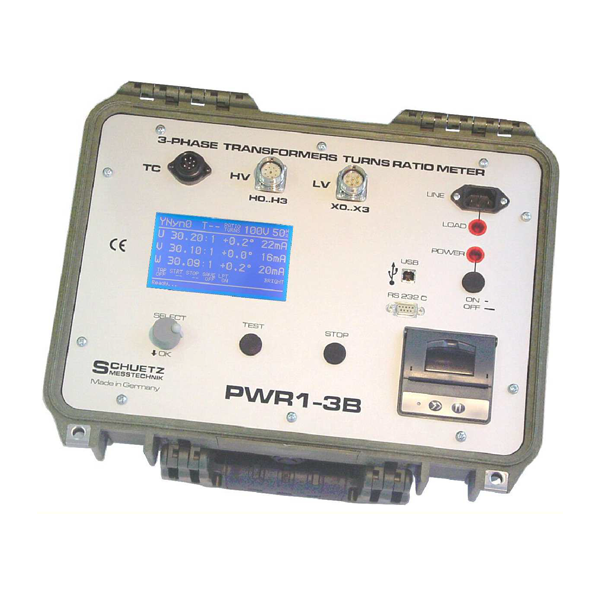 Ratio range from 0.8 to 2,500
Full automated measurement
Measuring voltage 10 V / 100 V selectable
Display shows ratio, phase- angle, excitation voltage and magnetizing current
Easy to read large LC display for all three-phases with backlight
Built-in printer (optional)
Robust mobile case for field use